ISIL destruction of Iraqi antiquities a 'major security issue,' says UNESCO
Comments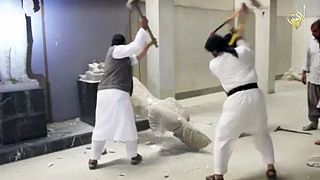 UNESCO has condemned the destruction of a collection of priceless statues and sculptures by hardline Islamists in northern Iraq.
In a startling video published online, Islamic State members wield sledgehammers and drills to attack the artefacts, some of them identified as antiquities from the 7th century BC.
UNESCO Director General Irina Bokova has requested an emergency meeting of the Security Council "on the protection of Iraq's cultural heritage," which she says is "an integral element for the country's security."
UNESCO Director-General expresses outrage following terrorist attacks against the Mosul Museum http://t.co/hsSrV5kYfi

— UNESCO (@UNESCO) February 26, 2015
"This tragedy is more than a cultural issue," added Bokova. "It is a major security issue and we can see clearly how the terrorists are using the destruction of heritage as a terror strategy to destabilise and manipulate people, to ensure their domination."
#MosulMuseum: Our Director-General requests @UN Security Council meeting to protect heritage http://t.co/9nqedZOlVlpic.twitter.com/QAQiCPg77F

— UNESCO (@UNESCO) February 27, 2015
For ISIL the art represents symbols of idolatry.
"The Prophet ordered us to get rid of statues and relics, and his companions did the same when they conquered countries after him," one man said in the video.
The pieces destroyed appear to come from an antiquities museum in the northern city of Mosul, which was overrun by the militants in June, 2014.
Some archaeologists say they've wreaked incalculable damage and have compared their exploits to the blowing up of the Bamiyan Buddas by the Afghan Taliban in 2001.