Revised reports suggest ISIL has abducted over 200 Assyrian Christians in Syria
Comments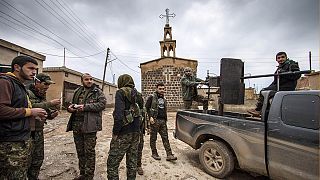 Revised reports suggest as many as 285 Assyrian Christians have been abducted by ISIL militants in dawn raids across northeastern Syria over the last three days.
Initial estimates by the Syrian Observatory for Human Rights claimed 90 people had been seized.
While exact details of the abductions remain vague, Afram Yakoub of the Assyrian Federation of Sweden said sources on the ground had given him the latest figure of up to 285.
Sources on ground saying #IS moved #Assyrian hostages to 3 villages, using them as human shields. More to come soon..

— Afram Yakoub (@AframYakoub) February 25, 2015
The Syriac National Council of Syria estimates 150 people were taken.
The men, women and children were reportedly taken from villages bordering the southern bank of the Khabur river, in Hassakeh Province. The region is strategically important to Islamic State fighters as it borders Turkey and areas they control in Iraq.
There are also reports of churches and homes having been set ablaze.
The abductions coincide with the release of videos by Syrian Kurdish YPG fighters, which purport to show the group progressing into ISIL-held territory near Hassaka town.
Vatican radio reports the Assyrians were seized to give ISIL some leverage. YPG is believed to have captured a number of jihadists and ISIL is expected to demand a prisoner exchange.