Kremlin saw plan to split Ukraine before Yanukovich fled - newspaper
Comments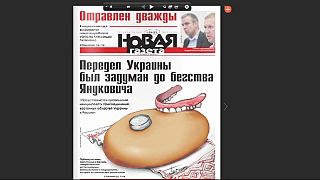 A Russian newspaper has claimed that the Kremlin was presented with a plan to annex Crimea and eastern Ukraine before the overthrow of President Viktor Yanokovich.
Novaya Gazeta said a document was presented to senior officials up to three weeks before the pro-Russian leader of Ukraine fled Kiev on February 21.
The paper claims the document had concluded that Yanokovich's presidency was politically bankrupt and his downfall imminent.
It went on to propose creating conditions to hold referendums in Crimea and Russian speaking Donbass related to self determination and possible reunification with Russia.
The Kremlin has described the claims as "nonsense".
Russia annexed Crime on March 21 and the following month pro-Russian separatists rose up in eastern Ukraine.