Separatists and Ukraine troops differ on withdrawal of heavy weapons
Comments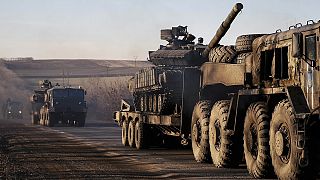 Separatists in the east of Ukraine claim they have begun the withdrawal of their armour from the frontline.
Lines of military vehicles some pulling artillery were seen on a road in Makiivka. Fighting has eased in the region and the rebels, who initially ignored the ceasefire insist they want the truce to hold.
"The withdrawal of heavy weapons has started from four towns. These are Debaltseve, Horlivka, Donetsk and Telmanove. We are moving from the frontline but it doesn't mean we are withdrawing from all towns for example there is still shelling at the airport," Eduard Basurin, Deputy Defence Minister of the self proclaimed 'Donetsk People's Republic' told reporters.
Ukrainian troops were on the move too. Soldiers from the 128th Brigade mountain infantry headed home in buses after the bitter conflict in the strategic town of Debaltseve which the rebels now control. The truce and withdrawal of weapons remains a contentious issue on the ground.
"The main condition and the only one for the start of the withdrawal of heavy weapons is the fulfilment of the first article of the Minsk agreement and that is the ceasefire. It has not held and by claiming they've started the withdrawal of weapons the rebels are just regrouping their their troops and relocating their weapons in other areas," said Ukrainian spokesman Andriy Lysenko.