Foreign ministers call for more OSCE monitors in Ukraine
Comments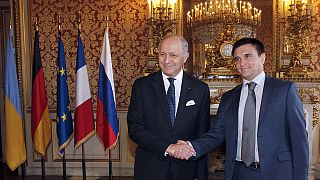 The foreign ministers from Ukraine, France, Russia and Germany have met in Paris. The so-called 'Normandy Four' spent three hours round the table. They renewed calls for the ceasefire which has been breached to be respected while discussing ways to resolve issues like the withdrawal of heavy weapons from the east of the country.
Russian Foreign Minister Sergei Lavrov told reporters the talks were, "useful". All agreed on a need for more international monitors.
"We ask for the reinforcement of the OSCE special monitoring mission. We ask all sides involved to completely cooperate with the OSCE to allow this organisation to fulfil its mandate, especially with regard to the surveillance and verification of the withdrawal of heavy weapons," said France Foreign Affairs Minister Laurent Fabius.
It's reported there was no diplomatic agreement on condemning events on the ground in Debaltseve while the German foreign minister called for the withdrawal of heavy weapons, "in the coming days".
"If the withdrawal of heavy weapons was to happen, it would first of all reduce the risk of further violations of the ceasefire and at the same time it would be a step towards rebuilding some of the trust which has been lost between the two sides," said Frank-Walter Steinmeier.
The meeting was the first time the four had sat down together since the so-called "Minsk II" summit on February 12. The new ceasefire started three days later in the contested Donbas region of Ukraine.