Suleyman Shah: Syria reacts to Turkish 'agression'
Comments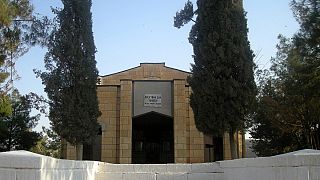 The Syrian government has denounced Turkey's operation to remove the remains of Suleyman Shah – the grandfather of the founder of the Ottoman Empire – from northern Syria.
Turkey will be held responsible for 'repercussions of this aggression', said a spokesperson after the Turkish military evacuated guards and the remains from the site on Saturday night (February 21).
Although Turkey informed their local Syrian consulate of the move, they allegedly did not await its agreement.
But Turkey's Prime Minister, Ahmet Davutoglu, said the operation was necessary to protect the country's heritage.
"No one should have any doubt about Turkey's power and determination," he said. "This should be widely recognised. It is our duty to protect even the smallest vestige of our heritage, wherever it may be."
Although 37 kilometres across the border into Syria, the tomb lay in sovereign Turkish territory, according to a treaty signed in 1921. It was moved from its original site at Jaber Castle following flooding, and is expected to finally be relocated to the Syrian village of Eshme.
Site of Suleyman Shah to be moved to village of Eşme in #Syria that's now controlled by the Turkish military pic.twitter.com/058tumtCyQ

— Public Diplomacy, TR (@TROfficeofPD) February 22, 2015
Late in 2014, the Turkish government claimed ISIL militants were advancing on the site of the mausoleum, and reports suggested Saturday's operation was a result of this threat.
But on Monday (February 23), Turkey's President Recep Tayyip Erdogan said the move was a temporary measure for security reasons, and not a retreat.
"The Suleyman Shah tomb operation is not a retreat," he said in a speech in Ankara, adding "It is a temporary move in order not to risk soldiers' lives."