First stop, Afghanistan, for new US Defence Secretary Ash Carter
Comments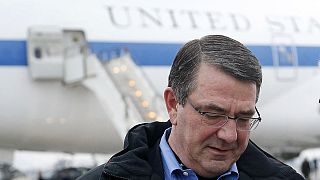 Aiming to ensure a 'lasting' success in Afghanistan: the words of new US Defence Secretary Ash Carter prior to landing in Kabul on his first official trip since taking up the position.
Afghan President Ashraf Ghani has submitted a request for the slowing down of the withdrawal of US troops from Afghanistan.
2014 marked the bloodiest year in the country since the war against Taliban militants began in 2001.
Days after being sworn in, Carter, who had previously suggested he was open to greater flexibility, did not indicate whether he was going to grant the request, saying he was in the Afghan capital to 'assess' the best way to accomplish their mission.
pentagon Chief Ash Carter lands in Kabul on unannounced trip. Says wants "lasting" peace pic.twitter.com/xynFv6KvWR

— Dion Nissenbaum (@DionNissenbaum) February 21, 2015
US President Barack Obama has laid out plans to reduce American troops from around 10,000 to 5,500 by the end of 2015.
By December 2016, there should only be a US embassy presence in Kabul, if the current plan is carried out.
ended their combat role in December.