Football violence in Rome prompts outcry over damage to historical monuments
Comments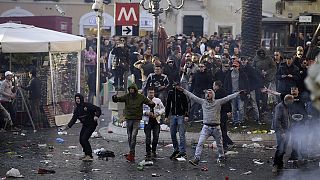 Hundreds of drunk fans of Dutch club Feyenoord clashed with riot police near the Spanish Steps in Rome ahead of Thursday's evening Europa League game against AS Roma.
It is not the people of Rome who should have to pay.
At least 23 Feyenoord supporters have been arrested during two days of unrest leading up to the match.
Most of the charges were for resisting arrest, according to judicial sources.
The sources added that the first eight people charged had been ordered to pay 45,000 euro fines or spend six months in jail.
Thirteen police officers have been injured according to local media.
Rome officials have denounced the hooliganism.
The city's mayor Ignazio Marino took to Twitter to decry the mess created at the recently-restored Barcaccia fountain.
Marino tweeted that the violence was "unacceptable", adding that "it is not the people of Rome who should have to pay."