Greeks optimistic of new credit deal ahead of eurogroup talks
Comments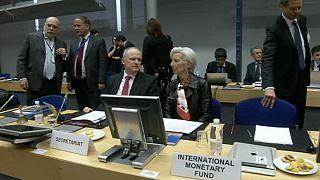 The Greek government remains firmly opposed to implementing more stringent austerity measures but Athens' stance has renewed optimism that a deal is within sight.
Fear or financial chaos has seen savers take cash out of Greek banks but many people feel the rest of Europe is paying attention and things are on the verge of change.
On the streets of Athens, shopper Margarita Bouzouna said: "It's the first time that they're taking us seriously. I think that we're the winners in this issue. We discussed on our own terms, we went with our own terms not theirs."
Some disagree. Athens resident Leonidas said: "What we're asking is a bit too much and we have detached ourselves from the rest of the world when it comes to what we want, so things are hard.
The start of technical talks to find a new accord has been widely welcomed by both sides. But the Eurogroup has stressed there's unlikely to a rapid conclusion to the negotiations.
German Finance Ministry spokesman Martin Jäger:
"If our Greek friends want to give up this term, we are willing to do so. But it does not mean in reverse, that the inspection function by the three involved institutions would be affected in any way."
The Greek finance minister's interview with Germany's Der Spiegel magazine reveals the size of the gulf of difference.
In it Yanis Varoufakis compares Greece's bailout conditions with the CIA's waterboarding techniques.
Europe has made clear it wants Greece to remain within the eurozone and Germany has hinted at a compromise, but at the same time Berlin says Europe's credibility must be respected.