Data 'mocks' claims migrants try for Europe 'expecting' sea rescue
Comments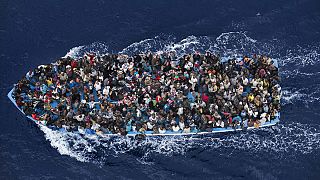 New data 'makes a mockery' of claims Italy's Mediterranean rescue operation was attracting African migrants to Europe, say campaigners.
Nearly 20,000 migrants arrived by sea in Italy or Malta from November 2014 to January 2015, figures released exclusively to Euronews reveal.
There were 6,214 over the same period a year ago, according to data from the UN's refugee agency (UNHCR).
It comes after the UNHCR said up to 300 migrants were feared to have drowned this week trying to cross from North Africa to Europe. More than 3,500 migrants are estimated to have died in the Mediterranean last year.
Italy's extended search-and-rescue operation, Mare Nostrum, was replaced with Triton, a cheaper, less proactive EU alternative on November 1, 2014.
Britain's Home Office claimed last year "ministers across Europe have expressed concerns search-and-rescue operations in the Mediterranean… [are] encouraging people to make dangerous crossings in the expectation of rescue".
Amnesty International says the data makes a mockery of suggestions the search-and-rescue operation was encouraging migrants to take the dangerous route.
John Dalhuisen, the human rights group's programme director for Europe, said: "This new tragedy realises our worst fears about the end of Italy's Mare Nostrum search-and-rescue operation and exposes the predictable consequences of the European Union's failure to provide an adequate replacement.
"The humanitarian crisis that sparked the need for Mare Nostrum has not gone away. With people continuing to flee war and persecution, EU member states must stop burying their heads in the sand whilst hundreds keep dying at sea.
"It's a simple equation – as the number of people taking this perilous sea route goes up and the resources put into search and rescue go down, more people will die."
The European Commission told Euronews more needs to be done but pointing fingers would not help. Spokeswoman Natasha Bertaud added: "If we are to talk seriously about improving the situation then we also need to talk about financing it adequately. A budget of just 90 million euros a year certainly does not equal the task of protecting Europe's common borders."
Britain's Home Office said it was working with other EU countries to "tackle the causes of illegal immigration and the organised trafficking gangs behind it".
What do the figures tell us?
They tell us, clearly, migrants deaths in the Mediterranean and refugees arriving by sea to Italy and Malta continue to rise.
The UNHCR estimates 3,538 migrants died making crossings in 2014, up from 700 in the previous year.
For the same period the number of refugee arrivals rose 279 percent, from 44,933 to 170,668 in 2014.
We have also highlighted the period November 2014 to January 2015, the first three months of the EU's cheaper Triton border operation. During these three months 19,553 migrants arrived compared with 6,214 between November 2013 and January 2014.
It could be argued migration arrivals have gone down since the introduction of Triton. And with reason: numbers have fallen from 15,279 in October 2014 to 9,293 the following month, a 39 percent fall.
But it may represent a trend of migrants not attempting the crossing in winter months. Numbers fell from 9,098 in October 2013, to 1,362 the next month, a 84 percent drop.
But that is not the whole story.
First the figures are only for Italy and Malta. Secondly – and as the UNHCR pointed out to us – the increases in 2014 should be seen in context. The agency said last year the number of people forced to flee their homes across the world had topped 50 million for the first time since the second world war.
How do Mare Nostrum and Triton compare?
| | | |
| --- | --- | --- |
| | Italy's Mare Nostrum | EU's Triton |
| Launched? | October 2013 | November 2014 |
| Annual budget? | 108m euros | 36m euros |
| Area covered? | Proactive search and rescue. Covered 70,000 km² of sea. | Operates within 30 miles of Italy's coast. |
| People rescued per month? | 12,568 | 6,060 |
What do some of the key players say?
​International Organization for Migration: "From what we can see so far this year, numbers of migrants crossing the Mediterranean continue to be very high.
"Historically, flows are generally much lower in the winter months, but numbers are higher in 2015 than they were at this time last year, and remarkably higher than they were two winters ago – over 3,500 arrivals to Italy in January this year as compared with just over 200 in 2013.
"The loss of life is unacceptable and it is imperative that it be met with a strong EU-led response to save lives at sea. Migrants are coming regardless of rescue capacities; unless these are expanded this means more will die on the way."
European Council on Refugees and Exiles: "We are appalled by the news of over 300 people feared dead in the Mediterranean.
"Sadly, our call has to be the same we voiced in 2013 when more than 300 people died off Lampedusa.
"People fleeing war and persecution are undertaking these life-threatening journeys because there are no safe and legal means for them to reach Europe. Refugees will continue putting their lives at risk as long as they don't have another way to reach a safe place.
"If a well-resourced European search and rescue initiative is not put in place, more people will die in their attempt to reach our shores.
"It's a question of life or death and the EU needs to engage now to save lives."
A spokesman for Britain's Home Office said: "These deaths are a tragic reminder of the great risks migrants take when they attempt the perilous journey to reach Europe from across the Mediterranean.
"Ministers from across Europe unanimously agreed last year that extended sea patrols should be brought to an end. These were replaced with operations led by the EU's external border agency, Frontex, closer to the EU's maritime border, which we continue to support.
"At the same time, the UK is continuing work with other EU countries to tackle the causes of illegal immigration and the organised trafficking gangs behind it, as well as increasing support and protection for those who need it in North and East Africa. It is action of this kind which offers the best hope of an effective response to the numbers of attempted crossings and the tragic loss of lives."
Natasha Bertaud, spokeswoman for the European Commission said: "We all know more needs to be done. The EU institutions, the member states, the agencies – we all need to act together. Europe needs to manage migration better, in all aspects.
"The commission is approaching this issue with eyes wide open. This is why President Juncker made migration one of his election campaign priorities.
"Pointing fingers is not going to get us anywhere. Tackling this common challenge has to be a joint effort, the commission and the member states working together.
"It is also time we were honest: Frontex is not a European border guard system. If we want one, then we would have to create one.
"If we are to talk seriously about improving the situation then we also need to talk about financing it adequately.
"In the Commission's view, we need to pool more resources among member states to reinforce the work of Frontex (Triton operator).
"Together with member states and countries of origin and transit, we also need to address the causes for migrants smuggling at the roots.
"Given that many migrants arriving on Europe shores are potentially in need of international protection, legal channels allowing them to come to Europe have to be opened.
"The European Commission and its agencies together with member states took many initiatives in these directions. Time has come to speed-up their implementation in order to have a concrete impact."