UN backs Italy's warning over more migrant tragedies
Comments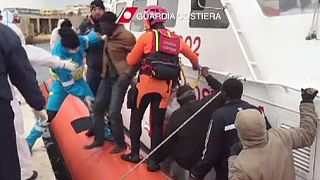 Italy has repeated its appeal for more help to deal with a massive influx of migrants on its southern shores.
It comes after 29 people died of hypothermia on Monday after being rescued by Italian coast guards from a dingy in rough seas near Libya.
The victims were left on the exposed deck of the vessel as there was no room below.
Lampedusa's mayor, Giusi Nicolini, blamed the end of Italy's full-scale search and rescue mission, Mare Nostrum, due to concerns over costs.
"It's easy from here to understand the problem but from afar it isn't. Sometimes mistakes are made and the analysis is wrong and then the solutions aren't the right ones," said Nicolini.
The United Nations refugee agency says there has been a staggering rise in the number of people trying to illegally enter Italy.
"We have at least a 30 percent increase in comparison with the same
period last year," said spokesperson Carlotta Sami. "We need a proper solution from the European Union."
Europe's Migration and Home Affairs Commissioner Dimitris Avramopoulos has also expressed alarm over the death toll in the Mediterranean. Since the start of the year, the figure stands at 50 compared with 12 in the same period last year.
The European Union runs a small rescue mission called Triton but has fewer ships than Mare Nostrum and a reduced area of operation.