Ukraine's Poroshenko points finger at rebels, expects difficulty implementing ceasefire
Comments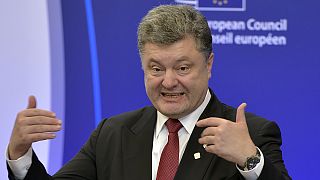 With guarded optimism, Ukraine's President Petro Poroshenko has expressed his thanks for European Union support to end armed hostilities in eastern Ukraine.
He was meeting leaders in Brussels after gruelling talks in Minsk, resulting in a ceasefire agreement, to take effect from this Saturday at midnight.
Poroshenko said: "It was very difficult negotiation and we expect a not easy implementation process. Ukraine has always been very responsible in implementation of the Minsk agreement, unlike the other sides. That is also why I arrived in Brussels to coordinate our next step with the European Union partners. The EU has demonstrated again, as usual, a real partnership with Ukraine, and I want to thank President Tusk and all the leaders of the member states for this strong support."
Standing next to European Council President Donald Tusk, Poroshenko mentioned how short of sleep he was, also expressing satisfaction for help from the IMF; he called it a financial pillow.