Separatist community in Donetsk downbeat on Ukraine ceasefire deal
Comments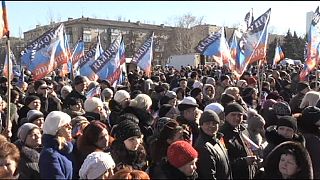 As the ceasefire was announced in Minsk members of the self-proclaimed Donetsk People's Republic held a rally in front of the rebel administration building.
Tatjana Demchenko is a representative of the separatist community in Donetsk:"I am from Gorlovka, I wish you knew what they were doing to Gorlovka. It is real hell, even though there have been several ceasefires, they are still trying to wipe the town off the face of the earth. I simply don't believe Poroshenko, he is not the kind of person you can trust."
Another resident delivered a similar downbeat assessment of events in Minsk:"We will see whether there will be a ceasefire or not. Unfortunately history shows, and you will have seen it with your own eyes the kind of ceasefires we have had."
As the Franco-German brokered talks went on deep into the night, a hospital came under attack and a bus station was also hit.