Strike and protests on Tunisia-Libya border amid anger over tax
Comments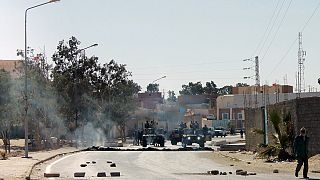 A strike has shut up shops and offices in large parts of southern Tunisia, bordering Libya.
It follows clashes between police and protesters on Sunday that left one person dead in the border town of Dehiba amid anger at a tax that many living near the frontier say will ruin their livelihoods.
Tension is high across the region of Tataouine where the walkout was declared as well as in Ben Guerdane, a town in Medenine province that was also paralysed by strike action on Tuesday.
Demonstrators are denouncing the tax on non-resident foreigners crossing the border – a regular point of passage for smuggled fuel.
They are also demanding less stringent customs checks on goods involved in cross-border trade and calling for more jobs.
And they want an inquiry amid claims of excessive use of police force during the protests.