Deadly protests in Tunisia amid anger over border tax
Comments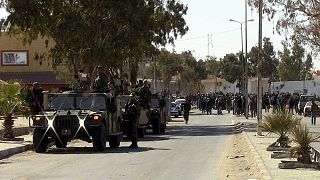 A general strike has been declared in Tunisia's flashpoint Tataouine region on Tuesday after clashes between protesters and security forces left at least one person dead at the weekend.
Feelings are running high on and around Tunisia's border with Libya amid anger at a tax that many say will ruin their livelihoods.
Locals are angry in Dhehiba in Tataouine and in Ben Guerdane in the Medenine region over the decision to impose the tax on non-resident foreigners crossing the frontier.
With smuggled fuel from Libya among the goods being brought over the border, the governor of Tataouine, Saber Mednini, said: "We are aware that these regions have long been marginalised and that Dhehiba's citizens are essentially living from commercial activity with Libya."
Tensions flared following Friday's handover of power in Tunisia which saw a new coalition government including both secularists and the Islamist Ennadha party take office.
The governor of Tataouine says the new administration has prepared a generous programme to help Tunisia's border regions.