Turkey: 50 detained en route to anti-government protests
Comments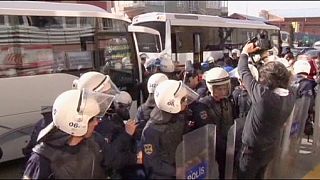 Turkish police have detained some 50 anti-government protesters as they made their way to demonstrate outside the president's residency.
Reports suggest the arrests were provoked by the protesters' refusal to step down from the bus to speak to the police.
The rally was organised to mark the one-year anniversary of the death of a 15-year-old, following massive clashes between police and anti-government demonstrators in 2013. The teenager died last year, after spending ten months in a coma.
Security legislations in Turkey were recently tightened following further deadly protests, sparked by Ankara's decision not to intervene militarily to help the Syrian Kurdish border town of Kobani.
Turkey's western partners have expressed growing concern over allegations of police brutality and heavy-handed tactics, particularly towards anti-government protesters.