Greek PM Tspiras warns EU "austerity is not a rule"
Comments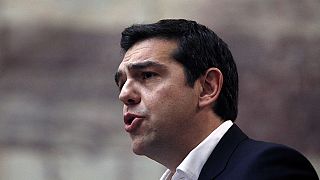 Greece's Prime Minister Alexis Tsipras has renewed his determination to do away with austerity measures and accused the ECB of blackmail.
In a defiant first speech to parliament after returning empty-handed from a European tour, he said Athens was no longer open to being told what to do.
"We will respect the EU rule for primary balanced budgets, but let me make it clear to everyone: Austerity is neither a rule, nor is it part of the EU' s founding principles," said Tspiras.
In an apparent reference to the tough stance taken by the European Central Bank and others, Tspiras added: "Greece cannot be blackmailed because democracy in Europe cannot be blackmailed."
Newly elected deputies had three ceremonies to take the oath of allegiance, one Orthodox followed by a Muslim and then a civil ceremony.
Our correspondent in Athens, Stamatis Giannis, said the new parliament will have little time to settle in.
"This was just a ceremonial occasion for the new Greek parliament, but trouble is brewing for the new deputies as they might soon be called upon to take some of the most crucial decisions in the country's recent history."