Two dead after gas blast at Mexican maternity hospital
Comments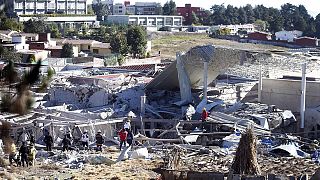 In Mexico, a maternity and children's hospital has been ripped apart by a powerful gas tank truck explosion.
The initial death toll has been revised down from seven. Officials now report one woman and a child have been killed and dozens more hurt.
The cause remains unknown. The blast destroyed a large part of the building and sent a massive column of smoke over the area on the western edge of Mexico's capital.
Authorities say they've managed to transport some patients to other hospitals; but a search and rescue operation is ongoing as it's very likely that many are buried under the rubble.