Memories of rebel control in Kramatorsk
Comments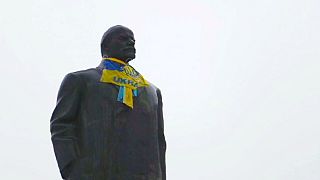 Kramatorsk lies 70 miles from the front line of the conflict in eastern Ukraine. It was taken by pro-Russian forces in April last year, before being re-taken by the Ukrainian army in July.
The statue of Lenin the main square proudly wears the blue and yellow of the Ukrainian flag.
Lyudmila Sakhno, who runs a bar in the city remembers a time when the town was under the colours of the Donetsk People's Republic, a time she would rather forget.
"During the occupation we were shelled and there were gunmen walking around the town, people were leaving the city, business too," said Lyudmila. "There was nothing to do here, we had to close our bar and because we couldn't earn money we had to leave."
Her former husband, Denis, originally supported the insurgents, a fact which Lyudmila cites as reason for the end of their relationship.
However, like many residents, he changed his mind when their promises failed to materialise.
"We were told that the Donetsk People's Republic would bring good things, that the government (Ukrainian) was not a legitimate one, and that we are paying too much money to Kyiv and we can keep the money here," explained Denis.
Though euronews approached pro-Russian supporters in Kramatorsk, none were willing to talk on camera. Our correspondent says:
"The majority of the population nowadays favour Kyiv's government. Even if there are some groups that remain sceptical."
In the rebel-stronghold of Donetsk, the residents said they were more worried about the escalating humanitarian crisis than the continued shelling.
"The humanitarian situation is so serious – it is a catastrophe. First of all Ukraine does not let either medicines, or food, nothing through here, that's why now only Russia helps us," says one Donetsk resident.
Kyiv's policy of requiring a special permit for travel to the conflict zones risks further alienating a population already ravaged by months of violence.