Ukraine: Separatist rebels in no mood to talk of truce after reigniting war
Comments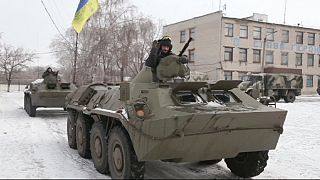 Last week's rebel advance has dashed a five-month truce and reignited the war in Ukraine which has killed more than 5,000 people.
In Lysychansk, near Luhansk in the east , National Guard volunteers gather their weapons as they act as back-up for the Ukrainian army.
They are waiting for the call from regular troops in nearby Debaltseve who are expecting a rebel attack any day now.
One of the volunteers known as "Menphis explained what they were up against:
"It's really the Russian regular army because there are a lot of technics, like a quantity of tanks, there is no chance that separatists have got these as some kind of legacy from Ukraine."
Our correspondent Sergio Cantone reports:
"The volunteers are expecting an attack that could happen any time because the front line is forever moving. That's the reason why they are strengthening their defences."​
Separatist rebels now control half the territory of Donetsk and Luhansk provinces together known as the Donbass Region. Taking Debaltseve which is a small town straddling key roads and rail routes between Donetsk and Luhansk, would be yet another strategic gain.
At the moment the momentum seems to be with the rebels as they fight for the independence of an area dubbed "New Russia" by the Kremlin.
A rebel spokesman Eduard Basurin said:
"The front line towards Debaltseve is important for our republic. The 'Debaltseve's Tongue' as its called, is a wedge that comes very close to populated areas."
Pro-Russian separatists intend to press on with their military offensive and appear to be in no mood to renew cease-fire talks with the Ukrainian authorities