Death toll rises in Spain NATO fighter jet crash
Comments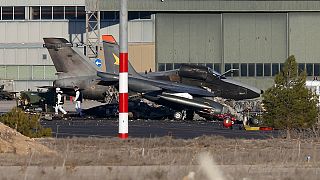 A French serviceman severely injured in a plane crash at a Spanish military base has died in hospital bringing the death toll from the accident to 11 people.
The Greek fighter jet was part of the Tactical Leadership Programme (TLP) and was taking part in a training exercise. It crashed during NATO training at the Los Llanos base in Albacete.
A defence ministry statement said the plane lost power and crashed shortly after take off.
Spanish Airforce spokesman Jose Guerreira explained that before they can access the crash site, toxic remains of hydrazine need to be removed.
The fuel used by the fighter jets contains the highly toxic material.
"Then, we have to check that the ejector seats that have explosive cartridges are not a threat. After this, we will access the area," Guerreira said.
Among the dead were 10 French nationals. Another 10 French people were injured.
France's defence minister Jean-Yves Le Drian visited the base on Tuesday.
"I also came here to greet those who were injured and who will soon be back in France," said Le Drian. "I also came here to salute the military who were here for this high-level exercise who have been traumatised."
Two pilots on board the F-16 jet died when it hit French and Italian aircraft parked at the base. Other pilots and mechanics were working under the parked planes at the time of the crash.
Five of the injured were taken to a specialist burns unit at La Paz Hospital in Madrid while the others were treated at a hospital in Albacete.
"I am deeply saddened," NATO Secretary General Jens Stoltenberg said in a statement.
"This is a tragedy which affects the whole NATO family. I express my heartfelt condolences to the loved ones and the nations of those who lost their lives, and I wish a speedy recovery to the injured."
Tactical Leadership Program at Los Llanos AF base in Albacete, Spain. (via Armee_de_lair</a>) <a href="http://t.co/AvY0O4mh9N">http://t.co/AvY0O4mh9N</a></p>&mdash; Keith Walker (KeithWalkerNews) January 27, 2015