Violent protests mark Egyptian uprising anniversary
Comments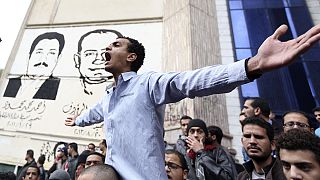 At least 17 people are known to have died in Cairo during violent clashes between protesters and security forces.
Four years on from the uprising that toppled Hosni Mubarak and gunfire once again rang out in the Egyptian capital's streets.
Tensions were already high after a woman activist was shot dead during a march on Saturday.
An investigation has been launched into the death of Shaimaa Sabbagh who it is reported was shot in the face and back. Over 1,000 people marched in her funeral procession.
Sunday's clashes were the bloodiest seen since Abdel Fattah al-Sisi was elected president after ousting elected Islamist president Mohamed Mursi in July 2013.
Since al-Sisi's election the new Egyptian authorities have cracked down on political dissent and there have been allegations of widespread human rights abuses although al-Sisi has been praised by many Egyptians for restoring a measure of stability.