Koudelka makes it four after Sapporo leap to victory
Comments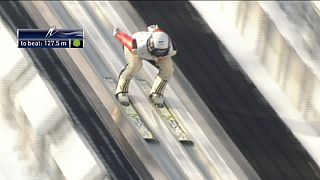 Roman Koudelka leapt to his fourth World Cup ski jumping victory of the season in Sapporo, Japan. nailing jumps of 133 and 132 metres to take the top podium spot.
The Czech beat double Olympic Champion Kamil Stoch.
Stoch was in the driving seat after his first jump.
The Polish jumper broke the hill record flying 140 metres.
Stoch then put in a disappointing second jump to finish in second place.
Third place went to the Slovenian Peter Prevc.
The Four Hills Champion Stefan Kraft ended the event in fourth.
The World Cup will continue in Willingen, Germany next weekend.