Hope Sole suspended from US women's soccer team for 'incident'
Comments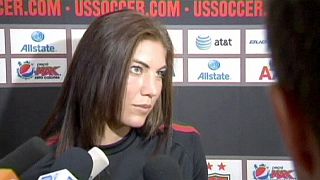 Olympic Gold medalist Hope Solo has been suspended from the US women's natIonal football team for 30 days.
The goalkeeper was involved in an incident during a training camp in California.
Her husband, former pro football player, Jerramy Stevens was charged with driving under the influence in the early hours of Monday close to the training camp.
His wife was in the car with him.
She will miss upcoming matches in France and England in February.
Earlier this month domestic assault charges against Solo were dropped.