Syriza foresees tricky coalition-building to shore up success
Comments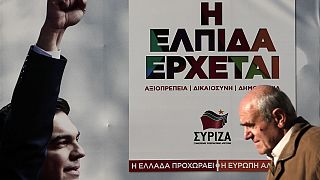 Greece's left-wing Syriza party has maintained a steady lead in the polls ahead of election time.
Party leader Alexis Tsipras toned down rhetoric critical of European task-masters. On one hand he suggested that if Syriza's popularity resulted in its forming a government, it would not surprise markets with an immediate default.
On another front, going some way to reassuring voters, he said Greece's obligations to its creditors would not be the object of any "unilateral" decisions. Tsipras promised to end four years of bleak austerity by splurging on social spending.
Syriza officials conceded there is no guarantee of winning an outright majority. So the party is keenly watching to see what small party, or parties, would help build a coalition.
The centre-right New Democracy party led by the Prime Minister Antonis Samaras (who has a higher personal approval rating than Tsipras) is clearly against Syriza's course of action.
New Democracy candidate Dora Bakoyanni, in the run-up to polling, said: "The Greek voters have a very serious decision to make: choose us and stay within an economic reform programme that will lead the country out of the crisis for good, or vote for Syriza and run the risk of driving Greece into a misadventure of unforeseeable consequences."
Several small parties are expected to get into parliament, including the far-right Golden Dawn party — not a partner of choice for Syriza — and the Communist Party, but the Communists have not encouraged Syriza's overtures.
Syriza candidate Nikos Pappas said: "Syriza wants the ballots to produce a solid government with a clear parliamentary majority, a government that can guarantee political stability and with the people's mandate fight for a new economic deal with our European counterparts."
This leaves the new centre-left 'To Potami' (River Party), founded last year by popular television journalist Stavros Theodorakis and the Socialist Movement (Pasok). Pasok bears the mark of two-and-a-half-years as New Democracy's junior coalition partner.
River Party candidate Dimitris Tsiodras said: "We are ready to collaborate with the people's first choice. If that choice is Syriza, our condition is that Greece never be allowed to stray from its European path. If it is New Democracy, it must rid itself of ultra-right-wing elements and stop its partisan practices in the public sector."
Pasok is the most probable Syriza backer. Disillusioned Pasok voters made Syriza a serious contender for power in 2012 elections.
Political analyst Angelos Koveos said: "Election campaigning this time, in spite of the country's critical situation, looks somewhat similar to the 2012 campaign. That demonstrates how little political progress has been made since then. I'm afraid that after 25th January the severe economic crisis may also turn into a deep political one."
Our Athens correspondent Stavros Giannisis summed up: "This is definitely the most crucial election in Greece's modern history, as its outcome may herald the beginning of fundamental changes in the country's political, economic and social patterns."