New Greek parliament bailout battle must be swift
Comments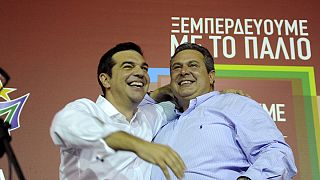 Alexis Tsipras has renewed his mandate as leader of Greece's left-wing coalition SYRIZA party and Prime Minister for the next four years, without a moment's rest.
Tsipras will not only have the whole parliamentary opposition against him, he will also get a hard time from citizens.
As soon as Sunday's election victory cheers have died down and the MPs take their seats, they will debate and vote on 31 measures that Greece's lenders demanded in the agreement Tsipras signed on 13th July. New bailout money is conditional on carrying these out.
Dimitris Sotiropoulos, a political science professor at the University of Athens, warns how thin manoeuvring room has grown for everyone: "There are very, very few months remaining until the end of the year and in this very short period we need to perform the recapitalisation of banks. If this does not happen, chances are that there will be a bail-in, which will drastically affect the deposits of Greek citizens in Greek banks."
A bail-in means using a portion of private depositors' cash towards the national recovery, as happened in Cyprus in 2013.
The third bailout package for Greece is worth 86 billion euros, with an instalment of three billion due in November. Then, negotiations have to open on restructuring the national debt.
Parliament has to approve doubling income taxes in agriculture, to 26%, finally ending the protected status of Greece's farmers as beneficiaries of subsidies and tax breaks.
Income taxes for companies look set to rise to 29% from 26%.
Pensions will come under renewed pressure, even after reductions over the past several years — in order to "improve long-term sustainability".
The state-guaranteed pension could even be linked to GDP and the consumer price index; since Greece has been suffering recession and deflation, that could erode pensions automatically. The minimum pension today is just 360 euros per month.
There are 31 tough measures like this to pass in parliament.
For a view right in the heart of Athens, we talked to our correspondent Stamatis Giannisis.
Eleni Rizopoulou, in Lyon, asked him: "How did SYRIZA surpass the expectations of even its most optimistic members and win a virtual landslide against New Democracy?"
Stamatis Giannisis, euronews Athens: "The election result showed clearly that SYRIZA, and Alexis Tsipras in particular, remain highly popular for the majority of Greek voters, even though the radical left party last July made a spectacular political u-turn and accepted the terms dictated by Greece's creditors in exchange for a new bailout deal. But once again, SYRIZA went to the polls with Tsipras spearheading its campaign, and won the day over his centre-right rival Vangelis Meimarakis. In the eyes of the electorate, he proved himself rather too old and too conservative in relation to Tsipras."
euronews Lyon: "One reason Tsipras went to the ballot box again was the split in his own party. And yet the far-left splinter Popular Union, SYRIZA members who quit, didn't get into parliament."
euronews Athens: "That was a surprise — the Popular Union not crossing the finish line, even though roughly one quarter of SYRIZA's members in the previous parliament left the party when Tsipras agreed to the terms of the new bailout deal with the country's creditors. But it turned out that the rebel Popular Union party was caught between SYRIZA and the mainstream Communist Party of Greece. Other anti-bailout voters either chose to abstain or to vote for far-left parties that didn't make it to parliament either."
euronews Lyon: "Tsipras insists he'll carry on ruling with the help of SYRIZA's partners the right-wing populist Independent Greek Party. Why is he so persistent on this ideologically unholy alliance? There are three parties at least in the opposition that are centre and centre-left. Plus, even the centre-right New Democracy supported SYRIZA's bailout deal with the creditor's in parliament before the elections."
euronews Athens: "Even though the partnership with the Independent Greek party is ideologically incompatible, it is a safer choice for Tsipras at this stage. He needs to command a parliamentary majority in order to stay in power, yet he also wants to dominate the centre-left of the political spectrum in Greece. His continuing partnership with an ultra right-wing party makes sure at this stage that he doesn't have to share power with a party that is an ideological neighbour of his own. We shouldn't be surprised in the future if SYRIZA makes alliances like that, maintaining the main role in Greece's centre-left."
euronews Lyon: "Tsipras has stated that the clear mandate he won yesterday gives him the chance to unfold his vision. He also said that his government will get to work immediately. What can we expect now, since so many hard reforms have to be implemented as swiftly as possible?"
euronews Athens: "There is a tough time ahead for the new government. In the next month and a half, a number of austerity laws resulting from last July's agreement with the country's creditors will have to be passed by parliament. It's not going to be all that easy, because this time Tsipras will not only have the whole parliamentary opposition against him, he will also be getting a hard time from citizens over whatever is in the new bailout agreement that they consider infringes on their professional or social rights."