Yazidis freed by militant Islamic State
Comments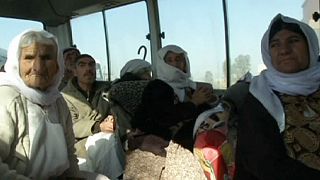 At least 200 members of the Yazidi religious community in northern Iraq have been released. They had been held by the Islamic State militant group.
It is not yet clear the reasons behind their release. A reporter at the scene near the city of Kirkuk where they were received by Kurdish officials said most of the Yazidis were elderly, disabled or unwell. Several young children with serious illnesses were among them.
"Some of Islamic State militants treated us well but others did not. Overall the treatment was not good. They took us first to Tel Afar and from there to Mosul where we were held captive. Then we were brought here," explained an elderly woman among the group.
They were taken from Mosul to a crossing point near the city of Kirkuk. Kurdish Pershmerga forces then took the group to a health centre for treatment. Their destination is the city of Arbil.
Some of those released were suffering from mental and psychological problems according to a leading Yazidi rights activist.
A number of Yazidi villages remain under control of the militants despite Kurdish Pershmerga forces breaking the long siege of Sinjar mountain last month where thousands of Yazidis had been stranded.