Near-record numbers at open-air mass led by the Pope in Manila
Comments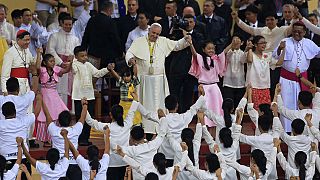 It was one of the biggest ever turnouts for an open-air mass led by a pope.
Some four million people have packed into and around a central park in Manila, as Pope Francis winds up his visit to Asia.
Earlier he appealed for more compassion and understanding for the disadvantaged.
The pontiff has had to battle bad weather during his visit to the Philippines, but the crowds have always turned out in huge numbers.
Weeping child challenges Pope on prostitution http://t.co/qb4qEdFJtE (Photo via Reuters) #PopeTYSMpic.twitter.com/6M1QWewDAp

—

ABS

-

CBN

News (@ABSCBNNews) January 18, 2015
One moving moment was when a girl, abandoned as a child, asked the Pope why God lets bad things to happen to children. She then hugged the pontiff in front of the applauding crowds.
"She's the only one who's asked a question that has no answer," said the Pope. "She wasn't even able to complete her words, she had to say it with tears. That's the big question for all of us: why do children suffer?"
The pontiff said it was only when people learn to cry over these issues that we will be close to getting an answer.
According to UN figures, some 1.2 million children live on the streets in the Philippines.
More than a quarter of the population live below the poverty line.
A Pope's captivating smile – Read: http://t.co/9C5MkPRnslpic.twitter.com/vhBobW7zLw

— Manila Bulletin News (@manila_bulletin) January 18, 2015
Thank you Pope Pontifex</a>! We pray that you may have a safe flight back to Manila amidst the storm. <a href="https://twitter.com/hashtag/DearPopeFrancis?src=hash">#DearPopeFrancis</a> <a href="http://t.co/ihrQAEEAVa">pic.twitter.com/ihrQAEEAVa</a></p>&mdash; Bongbong Marcos (bongbongmarcos) January 17, 2015
15 January 1995: Pope John Paul II's helicopter flies over the huge crowd in Manila's Luneta Park. pic.twitter.com/B1j8LZQyx3

— Nostalgia Filipinas (@NostalgiaPH) January 17, 2015