Cockpit voice recorder recovered from wreck of AirAsia passenger jet
Comments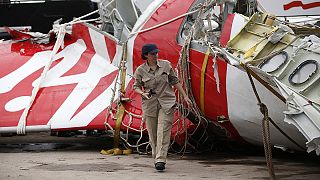 Divers have retrieved the the cockpit voice recorder from the wreck of the AirAsia passenger jet which crashed into the Java Sea last month.
The second of two so-called black boxes records conversations between the pilots and air traffic controllers.
It follows the recovery of the date recorder on Monday.
Investigators should now be able to piece together the last moments of the Airbus A320-200 which disappeared off the radar over the Java Sea and crashed killing all 162 people on board.