Manhunt intensifies for Charlie Hebdo suspects
Comments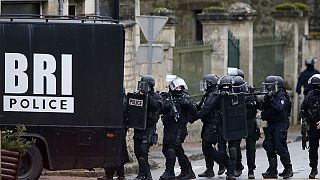 In northern France a massive police hunt is underway for the two suspects in the Charlie Hebdo atrocity. Officers are using special equipment including thermal imaging cameras, and night vision glasses to track down two brothers, Cherif and Said Kouachi. The area currently at the centre of the manhunt contains four villages and a number of large caves which are used in the cultivation of mushrooms.
Cherif and Said Kouachi are wanted in connection with the killing of twelve people in an attack on the offices of satirical newspaper Charlie Hebdo earlier this week.
The centre of the search is in Picardy, to the north of Paris. It is believed that the brothers fled into this area after they held up a service station yesterday, stealing food and petrol.
Police officers have been carrying out searches of properties in the area, and making door to door inquiries. The area at the centre of the search covers around 20 sq kilometres and has been sealed off by police. So far the vehicle last used by the suspects has not been located.