Twelve dead as terrorists attack the offices of French satirical magazine Charlie Hebdo
Comments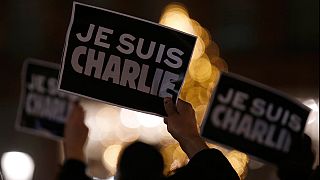 At 11.30 am CET three masked gunmen entered the offices of the French satirical magazine Charlie Hebdo in Paris and slaughtered ten unarmed staff and two policemen.
Five other people are said to be in a critical condition.
The three men armed with Kalashnikov's and a rocket launcher plus a driver made their escape in a black Citroen.
Reports from the French capital say the men then abandoned the vehicle in the north east of the city and car jacked a white Renault and made their way to the 11th arrondisement the most densly populated urban areas of Paris.
France is now on high alert and a full scale manhunt for the attackers is underway.
Three thousand officers are on the streets of the capital and the army has been deployed to guard major sites in the city.
No one group has claimed responsibility, but the Arabic phrase Allāhu Akbar, God is Great, was clearly heard as the attack was underway.
The satirical weekly has courted controversy in the past with its irreverent view on the world and current affairs.
It was firebombed in November 2011 a day after it carried a caricature of the Prophet Mohammed.
According to the French President Francois Hollande France is in a "state of shock."
The French security services are now firmly focused on apprehending the three gunmen.