12 dead after gun attack at French satirical weekly Charlie Hebdo
Comments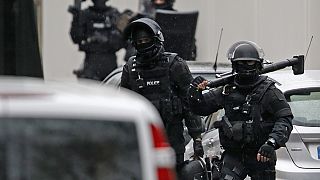 A huge manhunt is underway in Paris after at least 12 people were killed and seven others injured in a shooting at the offices of French satirical magazine Charlie Hebdo.
Police said two of those killed were police officers and that four of the wounded are in a critical condition.
Live updates on the Charlie Hebdo shooting
Witness Benoit Bringer said the attack started at 11.30 am local time: "Two black-hooded men entered the building with Kalashnikovs (automatic assault rifles). A few minutes later we heard lots of shots." He added the men were then seen fleeing the building.
Other witnesses described a gun fight with police before three black-clad attackers escaped in a car which may have been hijacked. Video posted on social media shows one of the gunmen firing a shot into the head of a police officer who was lying wounded on the pavement. They have not been caught but the car – a black Citroen C3 – was later seen being examined by police forensic experts on the eastern outskirts of Paris.
Carnage
A police official spoke of a scene of "carnage" at the scene.
The attack took place during the magazine's weekly editorial meeting. The editor Stéphane Charbonnier and three other cartoonists are reported to have been killed.
A police source quoted a survivor as saying the attackers shouted: "We have avenged the prophet!" and "Allah Akbar".
President Francois Hollande called the shooting "an act of indescribable barbarity".
The French Interior Minister Bernard Cazeneuve in a statement to the media talked about the hunt for "trois criminels", confirming there were three attackers.
The government said it was raising France's security level to the highest notch and the prime minister's office confirmed extra security has been put in place at official buildings, media offices, churches and department stores.
Controversial
The Charlie Hebdo offices were the target of a firebomb attack in November, 2011 (see video below), which occurred soon after the newspaper published a controversial image of the Prophet Mohamed on its cover.
The last tweet on Charlie Hebdo's account had mocked Abu Bakr al-Baghdadi, the leader of the Islamic State, which has taken control of large swathes of Iraq and Syria.
France was already on high alert after calls last year from Islamist militants to attack its citizens and interests in reprisal for French military strikes on Islamist strongholds in the Middle East and Africa.
Condemnation
British Prime Minister David Cameron described the attack as "sickening" and said Britain stood with France in the fight against terror.
German Chancellor Angela Merkel said the shooting was an attack not only on French citizens but also on freedoms of speech and of the press.
In Washington, the White House also strongly condemned the attack with President Obama calling it "horrific".
The French Council of the Muslim Faith (CFCM) condemned what it called "barbaric act against democracy and freedom of the press".
Hassen Chalghoumi, imam of the Drancy mosque in Paris's Seine-Saint-Denis northern suburb said: "I am extremely angry. These are criminals, barbarians. They have sold their soul to hell. This is not freedom. This is not Islam and I hope the French will come out united at the end of this."