Sunshine and love Florida lifts statewide ban on same- sex marriage
Comments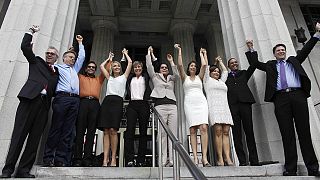 Florida becomes the 36th US state to allow same sex marriage with the county of Miami-Dade leading the way.
The ruling came after a judge lifted her stay on a earlier decision that found the state's marriage ban unconstitutional.
Its a dream come true for campaigners: "We've been together for 15 years and it means now that our family is recognized like every other family, that our love is just as good as everybody else's and that our son is finally going to have a family and not be a second-class citizen" said plaintiff
Karla Arguello.
Clerks in other parts of the state prepared to begin issuing marriage licenses to same-sex couples as the statewide ban on lesbian and gay marriage ends later on Tuesday..