Relentless spread of Ebola continues with Sierra Leone worst hit
Comments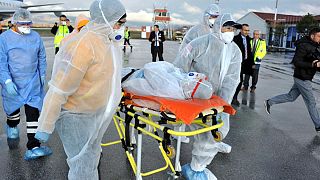 The New Year has seen no let-up in the spread of Ebola, especially in Sierra Leone, where President Ernest Bai Koroma is asking people to observe a week of fasting and prayer.
The statistics are staggering.
Known cases globally have now exceeded 20,000 according to the World Health Organisation (WHO).
The death toll has risen to 7,905, the WHO said, with 317 deaths recorded since it last issued figures on December 24. Since then, Sierra Leone has
accounted for 337 of 476 new laboratory-confirmed cases.
Suffering in the country comes despite quarantine orders to halt the relentless rampage of the virus.
Ebola's impact on West Africa – where the outbreak has been mostly confined – is also economic.
"For years to come, the effects of the Ebola crisis will be felt," said Daniel Richards, senior Africa analyst at Business Monitor International.
"It is not only in the immediate years where a lack of investment, the investment used for infrastructure, will be felt. A generation will have not gone to school for a year. And there is some evidence when that happens, children then don't go back to school. They might leave completely."
Increasingly aware of the Ebola threat, the international community continues to send help to the region although foreign medical staff – like their local counterparts – have learned to their cost that they can be infected too.
The latest foreign medical workers to be hit include a British nurse diagnosed with the virus upon her return from Sierra Leone.
She is being treated in London with blood plasma from a survivor of the virus and an experimental antiviral drug.