Chinese lay flowers in Shanghai in honour of stampede victims
Comments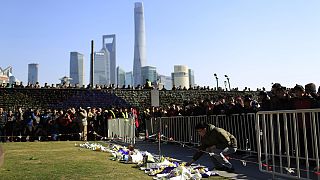 Flowers have begun to appear in an impromptu public memorial to the Shanghai stampede tragedy, near the spot where at least 36 Chinese revellers died when they should have been celebrating New Year's Eve.
Nearly another 50 were injured, many with broken bones, collapsed lungs and compression injuries from the crush of people that turned what should have been well-tuned festivities into a nightmare.
"There was not enough policing and planning. It is really sad to see a stampede happen in a big city like Shanghai. I hope the tragedy will not repeat in the future," said one local man.
Local police say they deployed fewer officers than the year before, but witnesses said unidentified people were forcing people into at least one area without letting any leave, an attempt at crowd control that seems to have gone horribly wrong.
An official investigation into the stampede has been launched.