Shanghai stampede investigated as China mourns worst urban tragedy in years
Comments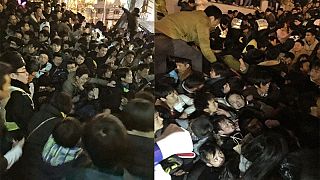 Police in Shanghai have opened an investigation into how at least 36 people died in a stampede during New Year's Eve celebrations.
Another 47 were injured in conditions that some survivors and witnesses described as overcrowding on a promenade area from where people were prevented from leaving.
A surge was then allegedly created by advertising leaflets that looked like money being flung from a high-rise building into the teeming streets below.
"It's too cruel," said one young woman.
"People in front of us had already fallen to the ground; people were stepping all over them. It wasn't an emergency like a terrorist attack where you need to run to save your life, people just needed to leave the site."
"I am shocked and horrified," said another.
"Many people come to the Bund every day. Yesterday was New Year`s Eve, which was an important day for people, families, lovers and friends. I feel very sorry for those lost lives."
Some witnesses reported Chinese police sought to control the situation rather than trying to provide emergency first aid.