Sonar images appear to confirm precise location of crashed AirAsia plane
Comments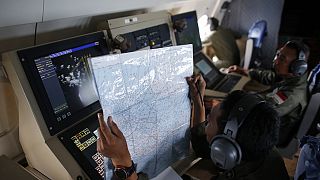 Searchers in Indonesia say they have recorded sonar images of what appears to be the main fuselage of the crashed AirAsia plane.
The news comes as the authorities begin the heartbreaking task of matching up passenger details with numerous bodies already recovered.
Dozens of the 162 victims have been spotted floating in the water, but retrieving them with the use of small boats, divers and helicopters will take time.
Singapore, Malaysia, Australia, Thailand and the US are all helping in the operation which is being carried out under appalling weather conditions with waves up to three metres high.
The plane vanished on Sunday about 40 minutes into its journey from Surabaya to Singapore. One theory is it may have suffered an aerodynamic stall before plunging into the sea.
The discovery of wreckage and bodies has finally destroyed any hope the victims' families had of seeing their loved ones alive.
They are being cared for in a crisis centre but the authorities say they will be taken to a nearby hospital as more bodies need to be identified.