Distress and anger among relatives of AirAsia victims
Comments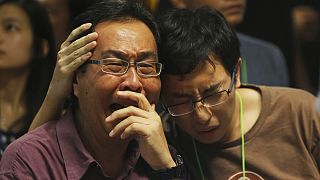 There were scenes of distress and anger among waiting relatives at a crisis centre set up at the airport in Surabaya, Indonesia.
The families of those on board the crashed AirAsia flight watched in horror as the pictures of the wreckage and bodies were broadcast on national television.
The wife of one of the pilots was comforted by friends and family.
"I must be strong and tough," said Widya Sukarti Putri. "I've got to be here for my children, for their future. So I must be strong and surrender to this situation."
The father of the pilot showed recent pictures of his son to neighbours.
AirAsia is promising support for relatives, while the government vows to find out what was to blame for the crash.
Most of the passengers were Indonesian, but also included one UK national, a Malaysian and people from Singapore and South Korea.
The Indonesian president headed to the scene of the crash and later held a media conference.
Joko Widodo said these were difficult times for the country and called on people to be strong.
The president said his thoughts were with the families of those who have lost loved ones and said the priority now was to recover everything possible from the crash site.
There were 137 adult passengers, 18 children and two pilots and five crew.
The CEO of AirAsia tweeted his reaction to the discovery of the wreckage.
"My heart is filled with sadness for all the families involved," he said.
"On behalf of AirAsia my condolences to all. Words cannot express how sorry I am."