Croatia: Voters pick next president amid economic crisis
Comments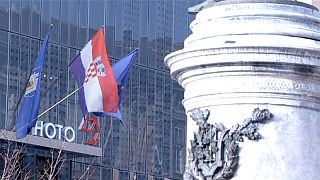 Voters are go to the polls in Croatia on Sunday to choose their next president.
Incumbent Ivo Josipovic, who is supported by the ruling Social Democrats, is seen as the frontrunner. That is despite his government's failure to stop a severe economic crisis.
But an election run-off round is likely, with Josipovic probably going up against former foreign minister Kolinda Grabar-Kitarovic. She is from the conservative Christian Democratic Union, the biggest opposition party.
The economy and high unemployment are on the minds of many voters as they head to the ballot box.
Croatia – the EU's newest member – has had six years of recession and zero growth is on the cards for 2015.
"Expectations of the next president are the same as for every president – to represent all citizens, to make the country prosper under his rule," said Ana, who lives in Zagreb.
Mirko Sabljak, also in Zagreb, added: "I believe that we should continue with the reforms that we've started, in a more energetic way, and with more determination. And I think that the role of the president in that could be significant."
The presidential role is largely ceremonial in Croatia, but the outcome of the vote is seen as a key test ahead of next year's parliamentary elections.