Israel approves 243 new homes in 'illegal' West Bank settlement
Comments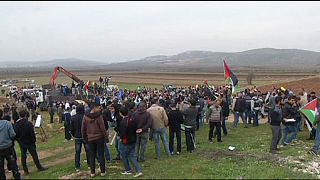 Israel has given preliminary approval for 243 new homes in the Ramot settlement in the Israeli-occupied West Bank. There are updated plans for 270 homes which have already been approved for Har Homa.
The European Union has criticised Israel's settlements and, like the UN Human Rights Council and most world powers including the US, deems them illegal.
Meanwhile, an 11-year-old Israeli girl was left severely burned in a firebomb attack on a car in the West Bank.
The incident comes one day after the Israel Defence Forces (IDF) said its troops shot and killed a member of Hamas' armed wing in Gaza.
There have been sporadic clashes between Israelis and Palestinians since a 50-day war in Gaza ended in August.
Protesters gathered last week after Ziad Abu Ain, a senior Palestinian cabinet member, died following an altercation with IDF troops near the West Bank city of Ramallah.
He had been in charge of a commission that, among other things, organised popular resistance against the Israeli settlements.