Sierra Leone imposes lockdown to stop transmission of Ebola
Comments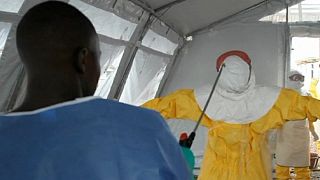 Sierra Leone has imposed a mandatory lockdown in its Northern Region in an effort to stop the spread of an Ebola outbreak.
Markets and shops have closed for five days, and gatherings have been forbidden, even in churches, except on Christmas Day.
"Muslims and Christians are not allowed to hold services in mosques and churches throughout the lockdown except for Christians on Christmas Day (Thursday)," Alie Kamara, resident minister for the Northern Region, told the AFP news agency.
"We are working to break the chain of transmission," he said.
Health workers will travel door to door looking for people showing Ebola symptoms.
Sierra Leone is one of the three worst-hit countries and has the most cases of the virus . Nine thousand people are infected.
The Ebola crisis is likely to last until the end of 2015, according to Peter Piot, a scientist who helped to discover the virus in 1976.
The outbreak claimed its first victim in Guinea exactly one year ago.