Locally-run Sierra Leone clinic fights Ebola against the odds
Comments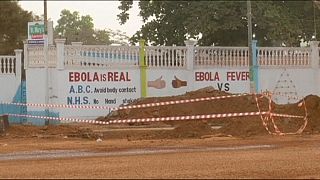 In Sierra Leone, there is no let up in the fight against Ebola.
The country now accounts for more than half of the known cases of the disease.
At the country's only locally run treatment centre on the outskirts of Freetown staff are working around the clock to contain the virus.
At the Hastings Centre junior doctor Sekou Kanneh had dreamed of being a top surgeon before the outbreak. Now he is putting all his efforts into fighting Ebola.
"We don't have the sophisticated equipment, we don't have all the things that people think that you need to fight Ebola. But even if we don't have, we improvise. We try to do our best," Dr Kanneh explains.
Staff say they lack training and many of them haven't been paid for weeks.
"Are you guys with me?" Kanneh asks the staff. The nurses and support staff cheer.
"Even if they don't pay them, these guys are ready to risk their life for their country."
A new study blames IMF policies for the Ebola outbreak in West Africa. Cambridge and Oxford academics say that the international lender's reforms left the health systems underfunded, a charge the organisation denies.