Greek MPs set for presidential vote second round
Comments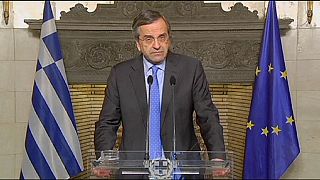 In Greece, MPs will vote later on Tuesday in the second round of the parliamentary presidential election, days after an earlier poll failed to secure enough ballots to endorse Stavros Dimas.
The life-long politician is the choice of the New Democracy–PASOK coalition government for the figurehead role.
Last week, Dimas fell short of the 200 ballots needed to secure the position.
Despite much political toing and froing, the vote is still expected to go to a third round.
Greek Prime Minister Antonis Samaras surprised MPs over the weekend by offering a general election next year in exchange for a vote for Dimas.
Nationwide polls had been expected to be held in June 2016.
Stamatis Giannisis, our correspondent in Athens said:
"The presidential candidate is expected to garner a few more votes from independent MP's in the second round than he got in the first. That's despite allegations of attempts to bribe deputies."
"But even those extra votes won't be enough and it is unlikely the President will be decided until the third round of voting on December 29."