New Chinese-built bridge unveiled in Belgrade
Comments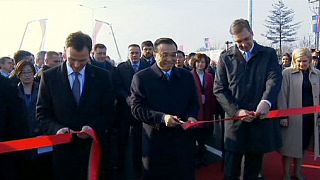 The prime ministers of China and Serbia have officially opened a new multi-million-euro bridge over the River Danube in Belgrade.
It has six lanes for traffic and two more for pedestrians and cyclists and is the first major Chinese-built infrastructure project in Europe.
The bridge is known locally as "the Zemun-Borca", which means "the Chinese bridge".