Surprise Australian pledge helps UN climate change fund reach target
Comments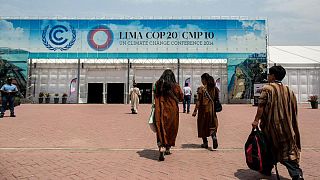 Talks on climate change in Peru have been boosted by news that a UN fund to help poor nations cope with global warming has reached its target of 10 billion dollars (eight billion euros).
In a major policy reversal, Australia has pledged A$200 million (134 million euros) over four years.
Belgium has also pledged 51.6 million euros.
Australia had been criticised for not making a pledge at a donors' conference last month.
Current Prime Minister Tony Abbott once described climate change science as "absolute crap".
Meanwhile Canada has said it will refuse to force its oil and gas industry to reduce greenhouse gases unless the United States takes similar action.
"Under the current circumstances in the oil and gas sector, it would be crazy, it would be crazy economic policy to do unilateral penalties on that sector. We're clearly not going to do it," Prime Minister Stephen Harper told Parliament.
Canadian Environment Minister Leona Aglukkaq defended her country's stance before the climate change conference in Lima.
"Our record speaks for itself. We have shown that it is possible to protect the environment while supporting economic growth. In fact, in 2012 greenhouse gas emissions were 5.1 percent lower than 2005 levels while the economy grew by 10.6 percent during the same period," she said.
In another development, eight Latin American countries have pledged to reverse deforestation by restoring 20 million hectares of degraded forest and farmland.
The land would help to store carbon in natural vegetation and cut emissions that cause global warming.
Argentina, Colombia, Chile, Costa Rica, Ecuador, Guatemala, Mexico and Peru and two regional conservationist programmes joined the 20×20 Initiative that aims to have all the planned work in this huge area well under way by 2020.