Conflicting versions of conflict in Syria as US and partner nations continue airstrikes against ISIL
Comments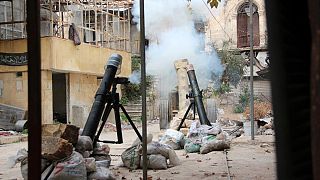 Islamic State militants claim a video posted on a social media website shows its fighters having taken control of Syrian government airbase in the eastern province of Deir-al-Zor. They claim the footage shows a dead government soldier and seized weapons.
Like so much of the video coming out of Syria and Iraq it is very difficult for news organisations to verify.
The British-based Syrian Observatory for Human Rights claims there was intense fighting in the area overnight Friday and Saturday morning, but that ISIL had been forced to retreat.
That version appears to be backed up by footage released by the Syrian regime. This video has not been independently verified either, but purports to show dead ISIL fighters and Syrian soldiers controlling the base.
Meanwhile the US says it and partner nations have carried out 20 strikes against ISIL targets in Syria and Iraq since Wednesday, mostly hitting areas in the oil producing north of the country.
In other developments Syria's al Qaeda affiliated group Nusra, said on Friday it killed a captive Lebanese soldier in retaliation for the arrest in Lebanon of women identified as being wives of Islamist militants.
The soldier was one of more than two dozen Lebanese security forces taken prisoner when Nusra attacked the Lebanon border town of Arsal in August.