Reichelt takes first win in Super G World Cup
Comments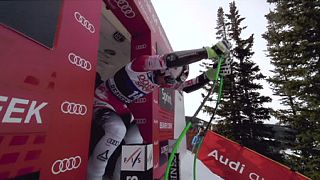 Hannes Reichelt put in what was described as ' faultless' run in the Mens World Cup Super G at Beaver Creek. It was the Salzburg skiers eight World Cup victory but his first this winter.
He was forced to sit out much of last season due to a back problem and missed the Sochi Olympics where he was predicted to be the man to beat.
His win on Saturday showed he is back on form and sealed victory with a time of 1.12.78. seconds, his third win on the Beaver Creek run.
It meant disappointment for Kjetil Jansrud. He came into the Super G at Beaver Creek on the back of three successive race wins and was aiming to become the first man since Hermann Maier in 1998 to win four races in a row.
But he failed to catch the time of the Austrian and the Norwegian completed the run in 1:13.30 but Jansrud strengthened his place in the standings ahead of Reichelt.
Completing the podium with a run of 1:13.40 was Alexis Pinturault. he is still searching for his first win though this was the second podium finish of the season.
The 23-year-old French skier injured his shoulder when he knocked against a gate but despite that looks set to compete in Sunday's Giant Slalom.