Obama to announce reforms to give rights to millions of illegal immigrants
Comments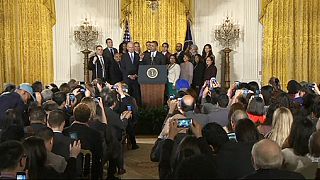 US President Barack Obama is set to announce measures on immigration on Thursday which could save around four million undocumented immigrants from being deported.
The legislation includes children who were born elsewhere but have grown up in the country.
Obama, In a message posted on the White House website said: "I am going to be announcing here from the White House some steps that I can take to start fixing our broken immigration system."
Republicans are staunchly opposed to the plans which they say are unconstitutional. Obama has made some concessions, saying immigrants will still be denied any health benefits
Homeland Security Secretary Jeh Johnson said they were determined to improve the immigration system.
"We've waited now for years for the Congress to act and the Congress has not acted. The House did not act. The House did not act in 2013. The House has not acted in 2014. The President has waited. We can take within our existing legal authority to fix what everyone recognises is a broken immigration system."
Many undocumented workers say they live in a permanent state of unease, that they could lose their job or be deported and taken away from their spouse and children.
Maya, a migrant from Mexico whose daughter was born in the United States, said: "What I ask President Barack Obama is to be as generous as possible, to include and shelter as many people as possible because there are people who prefer to work now to give their children a stable future."
The legislation will not apply to anyone who is not already in the US. It will not guarantee citizenship and could be reversed by a new president in two years.