Watch: Argentinian idol Maradona slaps journalist in Buenos Aires
Comments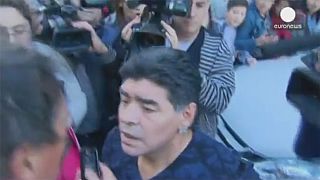 This is the moment controversial football star Diego Maradona lost his temper with a journalist during a media scrum in Buenos Aires.
Maradona, 53, slapped the reporter after taking his son, Diego Fernando, to see a children's play.
It is not the first time the footballer has been either at the centre of controversy or attacked journalists.
He was jailed for two years and 10 months for firing an air rifle at reporters and photographers outside his Buenos Aires home in 1994.
Three years earlier he had been banned from football for 15 months after a positive test for cocaine while playing for Napoli. He was also sent home from the 1994 World Cup after failing a drugs test for ephedrine.
Maradona's mood would not have been lifted by the form of his former side, Boca Juniors. They made a poor start to the Argentine championship at the weekend, losing 1-0 at home to Newell's Old Boys.
Maradona, Boca's most famous supporter, has been highly critical of his former team, saying: "It's the worst version of Boca I've seen in my life.
"They don't make three consecutive passes and when they cross the halfway line they resort to crosses."
For more videos subscribe to our YouTube channel.