Uruguay president calls FIFA 'gang of old sons of bitches' over Suarez bite sanctions
Comments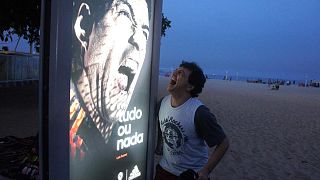 Uruguay's President José Mujica has called FIFA "a gang of old sons of bitches" in response to sanctions the organisation issued to Luis Suarez, expelled from the World Cup for biting Italian player Giorgio Chiellini.
The president made the declaration during an interview on public TV. "They could have punished him, but not inflict fascist sanctions," added the former guerrilla, renowned for his frank style.
FIFA's discipline commission has issued Suarez a nine-game international ban and four month football ban which forbids him from any football-related activities.
The Uruguayan team passed the group stage but was eliminated in the Round of 16, losing 0-2 to Colombia. For many, Suarez's absence was a contributing factor in the defeat.
It is the third time that Suarez has bitten an opponent, having previous been banned for similar incidents in the Netherlands in 2010 and in the United Kingdom in 2013.
(with AFP)